Power Tank Testimonials
Written Testimonials
Jim
Bend, Oregon
"
Steve, Just wanted to thank you for our great visit and install of a 10lb Power Tank Package for my 2016 Jeep Rubicon Unlimited. This was done on a 12 day 3,000m round trip from Bend, OR. to Mesa, AZ. and back over the Thanksgiving weekend. Appreciated your meeting us at your business and having the tank filled and mounted on my roll bar. Your Jeep is awesome! And thanks for showing my wife those "Rock Slider Engineering" steps you have. We installed them and are very pleased; we love them.
"
Christian
Four Wheeler Magazine
When Christian Hazel, editor at Peterson's 4-Wheel & Off-Road, got a request to build up a 2014 Wrangler Rubicon for his buddy, he knew that only the best would do. We'll let him do the talking.
"
It's one thing to tart up a mall crawler with widgets and gizmos aplenty, but it's quite another to carefully select top-quality components that are worth their weight in gold in the off-road environment...since a Warn Powerplant winch doesn't easily fit in the AEV front bumper, we selected one of our favorite methods of airing up and down with a 15-pound Power Tank Package C system. The PN PT15-5360-CB includes everything you need to keep a huge supply of air, and the larger-than-usual 15-pound bottle supplies the extra volume needed by most JK guys running 37 or 40-inch tires.
Editor Hazel busted out his older 10-pound Power Tank to show the size difference between it and the 15-pound bottle. The PT15-5360-CB "Package C" system includes the candy blue bottle (hence, the CB), regulator, Super Bracket, regulator bag, tank boot, Super Coupler, roll bar clamps, tire repair kit, and hose. You can just squeeze the 15-pound bottle on the upper rear leg of the rollbar under the hard top if you angle it inwards towards the cargo compartment just a little. For us, we're going to devise an external mount next to the spare tire.
Another improvement we noticed compared with our older 10-pound tank is the regulator knobs are beefier, knurled aluminum. Not that the old ones are slouches, but it's just one more thing that shows how Power Tanks are always striving to stay at the front of the curve.
"
http://www.fourwheeler.com
Will
OutdoorX4 Magazine
"
Now compressors work fine for the wheeler running smaller tires like a 31"-33". They are great for small items around camp like air mattresses or inflatable lake items but, when you're running big tires and are out playing in areas where there may be damage like punctured tires or unseated beads; there is no better way to go than the Power Tank. With every use I become more and more impressed as to how much I can do with it, how fast it fills big tires and how long a bottle last. At other times, the kid inside me just wants to break it out and play with the cool toy on the trail where I get to watch my envious friends wish they had one!
https://outdoorx4.com
"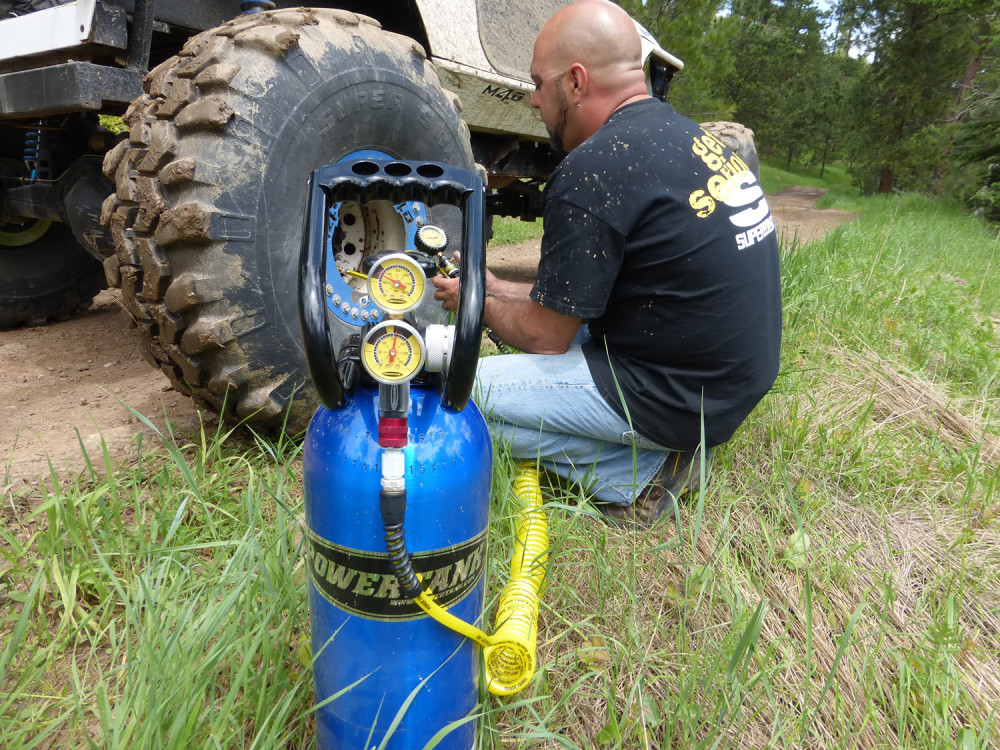 Karl
"
I lost a bead last weekend at 1am night riding
@adventureoffroadpark
Having my [Power Tank] saved us a lot of time being able to use an impact wrench and air right on the trail. That single situation made my tank purchase more than worth while and I bet you'll have 4 or 5 future tank buyers soon. Thanks for an awesome product
"
Phil
Facebook Review
"
I own Gryphon CNC. To keep costs low I assemble our machines in my home shop where space and noise is a concern. I ditched my air compressors for the PowerTank regulator a few years ago. A 20lb tank lasts me close to a month of heavy daily use for crating machines (air nailer) and cleaning parts. Packaging and build quality is exceptional. First of all as one who never turns the regulator off - it never leaks. The fittings are very precise and hold up to a lot of abuse and tool changes.
I also love how the guard has a place to hang your hose and the powder coat finish on it looks as good as the day I bought it. I use a tank exchange and I've never had a tank that the guard did not fit.
I've gone through a pile of the 'better' harbor freight air hoses. The PowerTank hose has excellent fittings and the protectors on the ends really help the fittings from getting tweaked.
Lastly the regulator does not freeze up. I've had frost forming a third of the way down the hose and it and I was still getting full flow.
These guys do it right and that's a rare thing - worth every penny.
"
Paul
Sand Sports Magazine
"
Hey (Power Tank), the new 15 PSI gauge is AWESOME. We used it at Sand Mountain a lot last week. My quad is REALLY sensitive to tire pressure so this was quite nice and I think much better for a quad than the higher pressure gauge...
"
Hi Paul-
I'm glad you like our 15 psi gauge. For low pressure tires like yours a 15 psi gauge is definitely more accurate. There are so many different types of tires and pressures that we make 15 different tire inflators.
-Power Tank Steve
Nick
unknown
"
Steve, I just received my nitrogen transfill hose. It's perfect and was here in one business day. This was hands down the best customer service I have received in this industry in 18yrs. I have the poly performance 20cf N2 tank. Do you have a mounting system that will mount that tank to my 1.75" rollcage? It would be a Power Tank had I dealt with you sooner. Thanks again for the A+ customer service.
"
Chris
unknown
"
I've been in involved in off roading for over 20 years. Shortly after 2000, I began thinking of carrying some sort of onboard air system. After exploring all the options, I settled for a portable air compressor. I had heard about the on-board co2 systems and figured it was too much hassle to have to refill a co2 tank when it was depleted, rather than have an 'endless supply of free air'.
The cost of my air compressor system was about the same as a Power Tank system. Not too long ago, I went on an off road trip with about 25 vehicles. While on a trail, one of the vehicles suffered a breakage, requiring the use of air tools for the repair. None of the vehicles with an onboard air compressor system could develop enough power to run the air tools consistently. Fortunately, a gentleman on our trip had a 20 pound Power Tank System on his truck. He was able to provide all the compressed air necessary to run all of the air tools and get the repair completed. The next day as we were all getting ready to leave, we all gathered around and began airing our tires back up. In the time it took me to air up (1) 33 inch tire, the gentleman with the power tank system had aired up not only his own truck, but two others. The smallest tire was 33". When I asked about how long the tank lasted per fill, the guy told me that his tank with his uses last between 6 months and a year. That's when it became quite clear to me that the power tank co2 system is not only a great value compared to an air compressor system, but the minimal charge to fill the tank is worth it in the time savings, flexibility, and the amount of supply air that the system can deliver.
"
Hi Chris-
There was a study done by a gentleman comparing the cost of running an on-board compressor to the cost of a Power Tank. It turns out "free air" isn't so free. Check out this video to see his surprising results:

-Power Tank Steve
Trent
Athens, IL
"
Steve, I just wanted to take a few moments to compliment you and your company on a VERY nice product! I was fortunate to win a 50% off coupon at the 4x4 Blast sponsored by the Two Rivers Jeep Club in Pike County Illinois last August. My coupon expired (in December), so I called Power Tank on December 27th, and you answered the phone. In a matter of a few minutes, I placed an order for "Package B" (with some upgrades) for use with my Jeep TJ. When I opened the package, I noted the care taken to package the Power Tank and its accessories. There was not a single scratch; all parts and pieces were there - it arrived as I ordered it.
Upon unpacking everything, I was immediately impressed with the engineering and quality components used by your company to put together such a complete package. The powder coating is flawless. The knurling on the knobs is precise. The fittings and valves are top-notch. The regulator cover fits perfectly. The mounting bracket is exact. The protective carry handle, the hose, the tank gauges, the digital tire pressure gauge: everything is perfection. Your instructions are direct and not complicated. Hell… even the decals are printed on a quality, heavy-mill vinyl (and they are perfectly and squarely affixed). Yeah, I notice things like that...
Anyway, thanks again for providing a superior, American-made product. And thanks again for sponsoring our club. I feel particularly fortunate to have won this particular door prize... you have a customer for life, and one that will hawk your company at any chance I can!
Good luck with continued success!
"
Jim
unknown
This customer had a 15 year old Power Tank with a regulator that had served hard time. With our
Regulator Upgrade Program
he traded it in and got a $100 discount on a brand new SuperFlow HP regulator and hose. No matter how old or what condition your old Power Tank regulator is in we will always buy it back towards a new regulator.
David P. - Warrior Jeep Team Leader
Another Failed Compressor Story
"
It was Independence Day 2016, just shy of Telluride CO when it happened. The Warrior Jeep and 4 other Jeeps from various places had just finished the Imogene Pass trail and were stopping to air up. The pass was beautiful that day, the trail very diverse due to the harsh winter that had just passed.
We pulled into the elementary school parking lot and out came an assortment of compressors, on board, and stand alone. Up went hoods, and the distinctive sound of running air compressors filled the air. The Warrior Jeep, a 2015 Rubicon with 37 inch BFG KO2's would be using a compressor as well. I purchased this compressor about 3 months prior and had used it many times during Easter Jeep Safari, and paid (with accessories) somewhere close to $300. A 5.65 CFM compressor, which states that its capable of 72 liters per minute at 150 psi. Was not enough to run an air tool, but plenty of air for a set of (4) 37 inch tires that had been aired down to 18 psi, its standard trail operating pressure.
As we all began the process of airing up, I noticed there was one Jeep who was already done. In fact, he had gone to the next Jeep to fill tires on it as well. To be clear everyone was running various types of 37 inch tires. But what I didn't see was the hood up or hear the drone of a compressor coming from that direction. And as I would learn later, that was because the owner had a 10lb Power Tank system.
During this time, while watching this amazing CO2 tank system, I noticed my 20lbs of compressor had stopped. Having listed it as having a duty cycle of 40 minutes at 40 psi it should have no problems airing up more than I could throw at it. I was wrong… it had kicked its thermal shutdown and left me with 3 more tires to air up and the tire it was hooked to had only been aired to 30 psi. Thankfully the Power Tank system from the other owner was there. At this point he had aired up his 4 tires, 2 tires on another Jeep, and then proceeded to air my 4 BFG 37s. And pointed out after he was done that he still had enough air left to run an air impact.
I won't be found on the trail again without Power Tank being there with me.
"
Nick
City: Unknown
"
I bought my power tank system this summer when I bought my new truck. I used the tank for everything from air tools, to airing up tires, and even a skiing inter tube. Unfortunately I was involved in an accident at the beginning of November where my truck was T-Boned by an 18 wheeler. My truck was totaled along with the trailer that I was towing. The truck and trailer separated upon impact. Everything in the bed of my truck flew out, including my tool box which was bolted to the bed. The lid was torn from the box and everything inside was spread out along the interstate. Every single tool came out, even my winch which I kept on a hitch cradle. Everything thing came out except my PowerTank...
During my purchase I upgraded to the power bracket and I'm sure glad I did! Never would I have expected a quick release mount that is so easy to use to hold a tank so well, especially during such conditions. My tank survived and is still holding the co2 that was in it during the wreck.
The quality is just absolutely amazing! Unfortunately though, something must have hit my regulator because it was damaged in the wreck. I look forward to getting my tank re-installed when I am able to get another truck. I will be a PowerTank customer for life!
"
Mark
City: Unknown
"
Hi Steve,
I just wanted to let you know I received the new gauge and wanted to thank you again.
I'm so impressed with your customer service, It's so refreshing to see a company still willing to go the extra mile. It really shows you and your company are here for the long haul and really care about your customers.
I'm also proud to buy an American made product in a world of cheap Chinese made copies!
Wishing you a happy and prosperous new year!
"
David
Team Leader - Warrior Jeep Team
"
Power Tank Team:
I am the team leader for the Warrior Jeep Team, and having just completed the Transamerica Trail of over 5000 miles off road across the US in support of wounded veterans. We regularly participate in off road events in Moab and at Jeep Jamboree's across the US. We are currently using a small compressor purchased at 4 Wheel Parts which is quickly starting to fail. Over this past weekend we had a chance to use the Power Tank when our compressor thermal shutdown engaged after inflating just one of the BFG 37's. Without Power Tank we would have been there for hours...
"
Jake
City: unknown
"
Power Tank:
I've got a 2008 40' triple-axle Weekend Warrior toy hauler, towed by a 2014 Ram 3500 Laramie 4x4 MegaCab Cummins Diesel truck. We often go to the sand and snow, which requires reducing the air pressure in all ten tires to around 16psi, from 65psi & 80psi, when traveling off-road. I purchased your competitor's CO2 based product, and also a Dewalt industrial air compressor. Preparing for on-highway travel back, I was let down by the competitor's CO2 based product; the regulator got stuck at 40psi, which is not acceptable or safe for the weight of the tow vehicle and trailer. My backup option, was the Dewalt compressor. This required me to start my on-board generator (too much for my small portable generator), run an extension cord, and long air hose. With the Dewalt compressor it took 31 mins in the pouring down rain to fill ten tires to 65psi & 75psi, nevermind that I didn't even go to the recommended 80psi in the rear of the truck. I purchased Power Tank products shortly after that trip, and now it takes about 35 seconds per tire on the trailer, and about 50 seconds per tire front/1min 20 seconds per tire rear on the truck. 285/75R18 Toyo Open Country Mud Terrain on the truck, 235/80R16 Gladiator on the trailer. Unbelievable.
"
Craig
Facebook Review
"
I just purchased my third bundle from Power Tank. Not only is their gear top-rate, well made, and good looking but the staff is fantastic too. Their customer service is outstanding- attentive and responsive- they really do care about their customers. I can't say enough about these good folks. Buy their stuff.
"
"
Craig
Facebook Review
"
Had a low pressure gauge blow out 48 hours after installing, sent an email and had a reply almost instantly (which never happens now a days) these guys stand behind their products and are taking care of it without delay, great job guys I was a little hesitant on the 300 dollar price tag but worth every penny after this, great company and I will gladly do business with again
"